"On June 9, Ashley Southworth and her husband were driving back to Cody from Yellowstone at around 6:30 p.m. when they spotted this incredible sight."  from KTVQ News Montana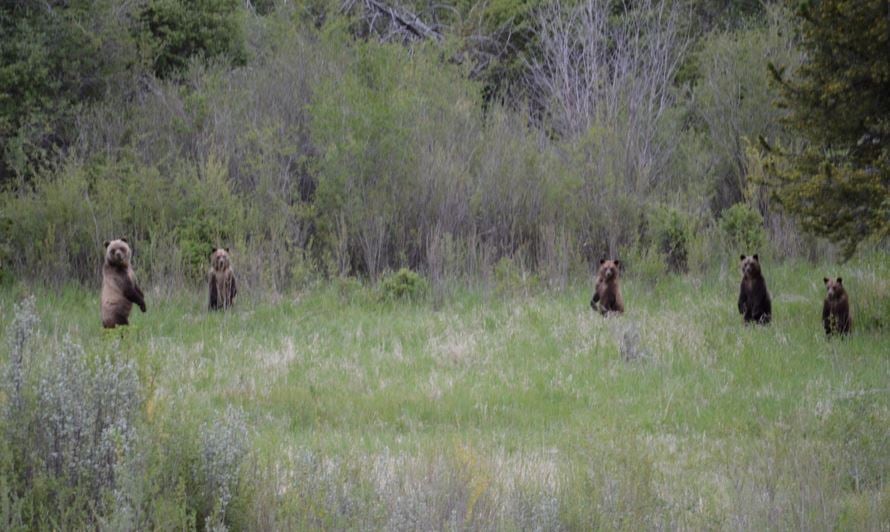 Would you not love to see a sight such as this?   I lived near Cody before marrying the cowboy and made the drive up the North Fork Highway to Yellowstone Park many, many times—looking for wildlife.  Once I did see three grizzly bears foraging for food alongside the river—back in the days before digital cameras—but never five at once and standing up.  Amazing!!!
Anybody remember traveling salesmen??  Well today I participated in a sort of "traveling salesmen" roadshow.  The company which manufacturers the brand of longarm quilting machine I own, APQS, has a van--
in which Mark and Josh travel the US doing their own kind of roadshow.  They book a meeting room in a hotel—send out invitations and set up five different APQS machines.  These guys have this down to a science!  They also ask the local sales representatives such as me to attend.  So, early this morning I was off to Butte, MT—160 miles one way.  Mark and Josh give a presentation then allow participants to try out the machines.  I enjoyed getting to see the latest and greatest models—plus I got to play a little too!
I made a quick stop at the grocery store in Livingston.  Back home I found the cowboy moving dirt and one little lonesome dog!  It's good to be home!